The Effects of Aging and Wear on the Mouth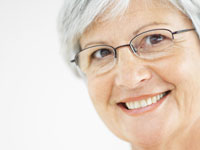 Tooth loss is not part of the normal aging process. In fact, tooth loss is declining among older adults. Aging does not cause oral diseases, yet oral diseases such as tooth loss are more prevalent with age due to changes in the oral soft tissues, a depression of the immune system, an increase in the number of systemic diseases, a decreased ability to perform adequate oral hygiene and self care secondary to stroke, arthritis, Parkinson's disease, dementia, or Alzheimer's disease, and dry mouth due to greater use of prescription and over-the-counter medications.
With age, teeth become less white and more brittle; however, oral hygiene habits and use of tobacco, coffee, and tea also will affect tooth color. Teeth also can darken or yellow due to the thickening of the underlying tooth structure (dentin). Brittle teeth tend to be susceptible to cracks, fractures, and shearing. Over the years, the enamel layer (outer tooth layer) is subjected to wear due to chewing, grinding, and ingestion of acidic foods. In severe cases, the enamel is completely worn away and the underlying dentin is worn down as well. Inside the tooth (pulp), the number of blood vessels and cells decrease and fibroses increase with age; thus, capacity to respond to trauma may also decrease.
The fiber content and number of blood vessels of the periodontal (gum) tissues decrease with age. However, periodontal disease represents a pathologic or disease change and is not due to just age. The loss of bone and gum attachment (receded gums) associated with periodontal disease is collective and therefore greater in older adults. An outcome of periodontal disease is exposed root surfaces. Exposure of the root in older people probably gave rise to the term "long in tooth". Oral hygiene practices and certain medications affect the health of gum tissue. Receded gums and exposed root surfaces put older adults at high risk for dental decay (root caries) on the relatively soft root surfaces. Dental caries on root surfaces is a disease that is common among older adults. Dry mouth and a diet high in sugars and fermentable carbohydrates greatly increase the risk for root caries. Dental caries are a major cause of tooth loss in older adults.
Studies show some reduced chewing effectiveness, decreased tongue strength, and increased swallowing time with age; however, the studies do not indicate that there is any real change in the ability to swallow with age.
The number of cells that produce saliva decrease with age. However, healthy, unmedicated older adults do not have reduced saliva flow. This is because the salivary glands have a high reserve capacity. Usually when a decrease in saliva flow is noted, it is associated with medication use, illness, medical conditions, or their treatment. The number of taste buds do not appear to change with older age; thus, the ability to taste does not change significantly with age. However, smell decreases with age. Since the ability to taste is closely related to smell, taste perception may be altered in older adults.
Soft tissues of the mouth become thinner and lose elasticity with age. Soft tissue lesions are more common in older adults and tooth loss may occur. Chronic inflammation such as candidiasis (fungus growth) and denture irritation also occurs more often. Wound healing is decreased due to reduced vascularity (blood flow to the area) and immune response with age.
Oral and oropharyngeal cancer is the most serious disease associated with age. Oral and oropharyngeal cancer lesions usually are not painful. Oral and pharyngeal cancer may appear as a red or white patch, a sore or ulceration, or a lump or bump that does not heal within two weeks. Swollen lymph nodes of the neck, difficulty swallowing and speaking, and voice changes also may be signs and symptoms of oral and oropharyngeal cancer. The risk for oral and oral pharyngeal cancer increases with age, use of all forms of tobacco, frequent alcohol use, and exposure to sunlight (for lip cancer). See a dentist if any signs or symptoms of oral and pharyngeal cancer are present.
False Teeth: Porcelain vs. Plastic - Discover The Difference!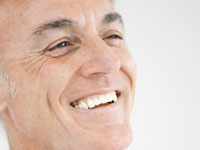 In the past, false teeth made with porcelain were generally preferred over false teeth made from plastic due to their greater durability and esthetics. However, in recent years, new generation biomaterials have resulted in the development of very wear-resistant false teeth made from plastic.
Clinically, the esthetics of plastic and porcelain denture teeth is nearly comparable, with good quality false teeth made from porcelain still being the standard for esthetics. However, the majority of dentures today probably are fabricated with false teeth made from plastic. For all practical purposes, the cost of porcelain and false teeth made from plastic are about the same.
While porcelain and plastic teeth are competitive with regards to durability, and to a lesser extent, esthetics and wear, there are other factors that may favor the selection of one type of tooth over another.
Some Selection Factors for False Teeth
Balanced bite and force transmission:
Denture bite (called occlusion) changes due to the constantly changing jawbone (called alveolar bone) upon which a denture rests, and, to varying degrees, uneven tooth wear resulting from use. Unless a denture is evaluated and its occlusion adjusted to a uniform and even contact (called balanced bite or balanced occlusion) at regular intervals, denture occlusion will become unbalanced.
Since false teeth made from porcelain are more wear-resistant, their occlusion will not become significantly self-altered by wear, as will false teeth made from plastic. However, when alveolar bone changes cause an unbalanced occlusion, the resulting biting forces from false teeth made from porcelain will be unevenly transmitted to underlying supporting alveolar bone. Frequent tissue refitting of the denture usually eliminates or lessens this problem.
Porcelain denture teeth tend to transmit the impact of biting forces to the alveolar ridge with greater intensity than that transmitted by plastic teeth in an unbalanced tooth contact situation. Some practitioners are of the opinion that this greater force, especially when uneven as in an unbalanced occlusion, may be damaging to the alveolar ridges and could result in accelerated bone loss.
Therefore, unless denture occlusion is checked and balanced on a regular basis, false teeth made from plastic would probably be a preferred choice over false teeth made from porcelain.
Bone loss:
If a person has lost a great deal of supporting alveolar bone and their gum tissue is not of a sturdy type, then plastic denture teeth might be a better choice. These teeth are more forgiving of excessive forces developing from habits such as clenching, grinding, and tapping or "clacking" of teeth, which seems to be more prevalent among older individuals. Plastic teeth do not transmit forces to underlying bone as intensely as false teeth made from porcelain.
Noise:
If false teeth made from porcelain are vigorously used or sometimes habitually tapped together, a "clacking" sound can be heard. Plastic teeth will muffle this sound and be quiet during normal function or habit jaw motions (called parafunction).
Which Type of Tooth Is Best?
If a person has been successfully wearing dentures with false teeth made from porcelain, then they should probably continue with false teeth made from porcelain. These teeth will not wear as fast as false teeth made from plastic, and the relationship between upper and lower jaws will tend to stay normal for a longer time than with false teeth made from plastic.
Regardless of which type of tooth is selected, the success of the selection is strongly based upon regularly checking dentures for proper balanced occlusion and fit on regular intervals.
If a denture is going to be worn against opposing natural teeth, then false teeth made from plastic should be selected because false teeth made from porcelain, being harder, could excessively wear natural teeth away.
After a thorough examination and frank discussion of what a person wants from wearing a denture, a licensed dentist can effectively discuss which type of tooth would best meet a particular individual's unique needs and desires.
Tooth Strength
Because false teeth made from porcelain are extremely hard in comparison to false teeth made from plastic, they tend to chip and crack more easily. For this reason, when dentures having false teeth made from porcelain are brushed and cleaned, they are generally handled over a sink filled with water or over a towel. Should the denture accidentally fall, the water or towel would help break the fall and hopefully reduce tooth breakage.
by Joseph J. Massad, D.D.S.