Common Questions About Affordable Dentures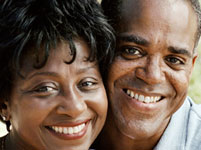 New experiences generate many questions. Here are some frequently asked questions patients often ask about dentures.
Affordable Dentures Are All the Same, Right?
No. Maintaining good oral health is important to denture wearers. Mail-order services offering discounts on dentures cannot provide the custom fit you need for good oral health. Poor-fitting dentures cause chronic irritation, contributing to mouth sores and changes in the bone or gum tissues. Your dentist wants you to enjoy a comfortable fit, and will carefully measure and prepare your mouth for affordable dentures. Dentists work with reputable dental labs where skilled technicians create your custom-fit, affordable dentures for maximum comfort.
Will My Eating Habits Need to Change?
Actually, there are very few eating restrictions for denture wearers. If you experience eating difficulties at any time, it is important to contact your dentist. Poor-fitting dentures can contribute to eating difficulties. Dentures that fit right are vital for enjoying a well-balanced diet that includes a wide assortment of foods.
Do I Have to Wear Denture Adhesives?
Dentures are custom-designed for a comfortable and good fit for you. As a result, they usually don't require the regular use of an adhesive, unless it's to stabilize dentures in need of repair. Poor-fitting dentures must be checked by your dentist as soon as possible to eliminate discomfort and the potential for irritation.
Will These "Permanent" Teeth Last a Lifetime?
Dentures are very durable but that doesn't make them indestructible. They can discolor, chip, break, and bend out of shape. With good care, affordable dentures should last for many years. Here are some tips for maintaining the appearance and extending the life of your dentures:
Use a brush designed specifically for dentures and a denture cleaner. Regular toothpaste can be too harsh for dentures.
Store dentures in a container of denture-cleaning solution or water. /li>
Soak in warm, not hot water. Hot water can damage their shape.
Use an effervescent cleansing tablet once a week to kill odor-causing bacteria.
Affordable dentures offer many benefits to the millions who wear them. While they take some initial adjustment, they can enhance your smile as well as your long-term confidence. Return to your dentist at least once a year to evaluate fit, appearance, and to receive an oral cancer screening.
by Brian J. Gray, D.D.S., M.A.G.D., F.I.C.O.
FAQ Dental Information - Denture and False Teeth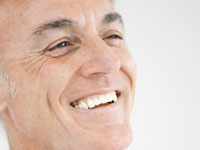 Q. How do you clean your dentures?
A. When cleaning your dentures, you should first rinse away loose food particles thoroughly. Then moisten your toothbrush and apply denture cleanser. Brush every surface, scrubbing gently to avoid damage.
Q. How many times a day does the denture need to be cleaned?
A. The denture needs to be cleaned two to three times daily.
Q. What is good oral hygiene when you have full dentures?
A. In addition to taking care of your dentures, taking care of your mouth also is vital if you wear full dentures. This includes brushing your gums, tongue, and palate every morning with a soft-bristled brush before inserting your dentures. This stimulates your tissues and helps remove plaque.
Q. Do dentures need to be replaced?
A. Dentures will need to be relined, remade, or rebased due to normal wear over a period of time and normal shrinkage of your gums and bones.
Q. What should you do if your dentures crack or break?
A. Call your dentist immediately. Normally, dentures can be repaired quickly, often on the same day. Damaged dentures can cause additional oral health problems, so see your dentist right away. Never attempt to repair dentures yourself. They require professional repair and adjustment.
Q. Why can't you fix dentures that break with glue?
A. Glues often contain harmful chemicals and are not effective in the proper repair of dentures.
Q. What are partial dentures?
A. Partial dentures are dentures that replace only a few missing teeth.
Q. How do you wear a removable partial denture?
A. Removable partial dentures are attached to your natural teeth with metal clasps or devices called precision attachments.
Q. How long will it take to get used to wearing a partial denture?
A. Your partial denture may feel awkward or bulky for the first few weeks, but your mouth will eventually get used to it.
Q. How long should you wear a partial denture?
A. Initially, you may want to wear your partial denture all the time. Your dentist will give you specific instructions on how long it should be worn and when it should be removed. Generally, your mouth tissues need to rest so it is advisable that you take out your partial denture at least 15 minutes per day.
Q. Will the partial denture change the way you speak?
A. Your partial denture may help your speech. It can be difficult to speak clearly when you are missing teeth. However, it also will take time to get used to it.